GetBangedOn Dunk of the Year - Blake Griffin on Timofey Mozgov
As hard as it is, the readers and followers of GetBangedOn have sent in their votes for the Dunk of the Year.
Month after month, the dunks poured in with every month seemingly giving us a dunk-of-the-year candidate. Guys around the league showed off their athleticism and power with spectacular dunks and amazing posters.
Thankfully, the people have voted. Here are the results: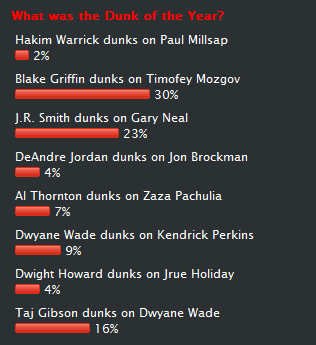 Against some very stiff competition, Blake Griffin's now-famous elevator slam over Timofey Mozgov garnered 30% of the votes taking out the title of GetBangedOn's Dunk of the Year.
Somehow, Blake seemed to continue to rise through the contact and elevate high enough to muscle home the insanely difficult slam. 
It's hard to argue with the voters, this dunk was an image from the 2010-11 season that some of us will never forget.
The Dunk of the Year: Blake Griffin dunks on Timofey Mozgov
Timofey Mozgov, you Got Banged On.
Make sure you check out the other GetBangedOn Award winners.
(Image from @RHurstDesigns. He's created the unofficial posters of the NBA season. Check them out.)